LOGITcpm: one partner for every need
of handling, packing and packaging.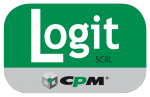 Since 1970, LOGIT CPM has worked in the handling and packaging field. At the beginning, the company had an artisan structure and worked with the main manufactorers in the fields of palletisation and handling. In 2006 LOGIT CPM moved into the new modern industrial area of Calerno (Reggio Emilia).
The resulting development in the field of activity and increasing requests from customers persuade us to go beyond the artisan structure and develop a network of services ( technical, trade, purchase etc.) that allow us to be more competitives and flexibles. In this way we are able today to meet all customers' requirements, as for the change in existing plants as for complete plant handling system.